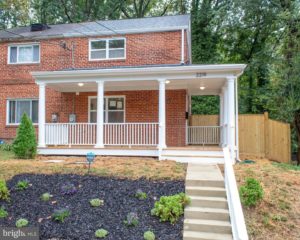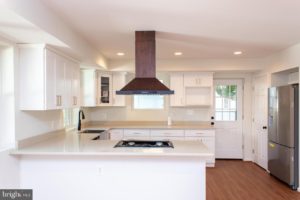 HIP buys and substantially rehabs vacant single-family homes in older inner-beltway neighborhoods. Sometimes, HIP will tear down abandoned and dilapidated homes to build new construction on a large lot.
The rehabilitated HIP homes typically require extensive work and are practically new when completed.   In an average rehab, HIP will replace all major systems (roof, gutters, furnace, central air, hot water heater) and heavy up the electrical system.   In addition, we will replace the kitchen and bathroom(s), install all new appliances (garbage disposal, dishwasher, refrigerator, stove, washer and dryer), and replace all electrical fixtures and flooring.  HIP places special emphasis on energy and water efficiency as well as the use of sustainable, healthy materials.   HIP's signature feature is the addition of a front porch with brightly colored front and rear door.   Not only does the porch dramatically improve the curb appeal of the home, it also encourages the new owners to sit out front of their home and get to know their new neighbors and the community.
Homes are affordable to families earning 80% or less of the area median income.
Requirements for purchasing a "HIP Home"
Be a first-time Maryland homebuyer, which means buyers cannot have owned property in Maryland within the past three years.

Buyers of HIP homes must qualify for financing through either a conventional lender, the State of Maryland, or Prince George's County.  HIP will assist families with this process through its HUD-approved homeownership counseling program.
We are working hard, transforming vacant and distressed houses into safe, attractive and sustainable homes.  For more information about HIP's Single-Family program, please contact Jocelyn Harris, Senior Housing Developer, at 301-699-1222 or jharris@HIPhomes.org.
Above: HIP staffers Maryann Dillon and Jocelyn Harris with a construction worker at a passive house construction site.